COTU is an AWARD WINNING
collection of artists
who wish to bring innovative works to their world.
We are: THEATRE BY ANY MEANS! Our goal is to bring new talent and audiences to our local community plus give opportunities to existing talents to showcase their work while increasing skill sets. Citizens of the Universe is a non- profit 501(c3). [EIN #: 56-1922771] and is a proud member of the Metropolitan Arts Council, the CL Syndicate and supports the Metrolina Theatre Association..

COTU News: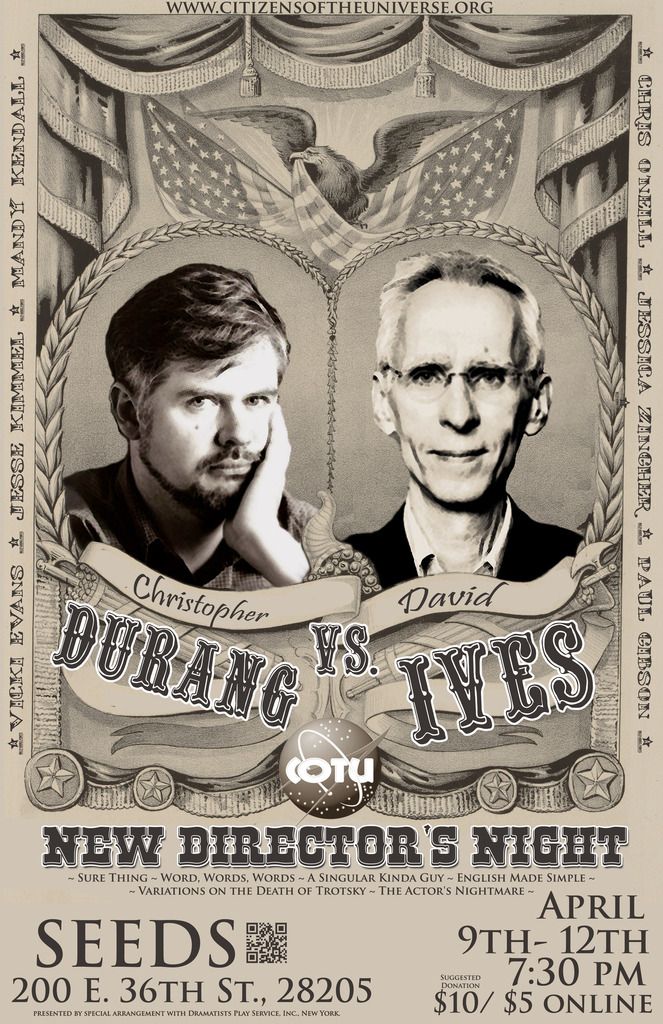 Citizens of the Universe presents the first in our education series: "Durang v. Ives: The New Director's Night!". Come join us for zany absurdity in our "New Director's Night" project featuring plays by David Ives and Christopher Durang. This COTU project involves first time directors who will be learning the art of "Direction" which culminates in a showing of a one act by either David Ives or Christopher Durang.
(We also have two guest directors!)
Performances are April 9th- 12th, 7:30 pm at SEEDS/ 100 Gardens (located at 200 E. 36th St., 28205).
Doors open at 7:00pm.
All COTU ticket prices are suggested donations; this event has a suggested donation of $10.
Advance tickets are $5 online.
Advance tickets can be made at http://cotu.ticketleap.com/dvi/



ROCKY HORROR IS COMING...
We are looking for a few sexy monies to bring this showing to your happy faces!

Support the project and Avalon Rose directly here!
Want to support us directly? Click the link below!
2007 Central Ave, 28205
Please send an email to cotu23@yahoo.com for more information and scripts.
Our friends & partners!





*Durang v. Ives: A New Director's Project
April 9th-12th.
*The Rocky Horror Show
May 20th- 30th.
*The Lion in Winter


July 8th-18th


*Beowulf


July 12th-25th


*Seascape


August.




*An Adult Evening With Shel Silverstein

Sept 2nd-5th

*2nd Carolina Arts & Theatre Awards


Sept. 6th.


*A Disturbance in Whitchapel


Sept 20th- 27th.


*Queen City Fringe Festival


Sept 24th- 27th.


*Nosferatu: A Silent Experience


Oct 21st- 31st.


*The Mouse Trap


Dec. 3rd- 13th.



Show lineup may change depending on
availability of rights and any other odd thing.
Request for rights are open and available for viewing
to the public by clicking on the title.
All tickets are suggested donations.
All the time.

Thanks to

and Madeleine Bock


for help with 1984!



Check out
our Interest









If you enjoyed our work,
help us make more!
All donations are made to COTU.
EIN #56-1922771
To those who saw our last show!
THANKS TO ALL THOSE WHO CAME OUT FOR

GONZO: Fear & Loathing!